Monday, October 15, 2018 Updates
Beautify Chula Vista Park clean up day.
Saturday, October 20, 2018 from 8:30am - 12pm. Please come out and support the community by volunteering. Click for more information. or here to register.

Thursday, September 13, 2018 Updates
Spring Season Early Registration Online Opens on November 12, 2018.
Early Bird Registration Link
Friday, July 20, 2018 2:45pm Updates
Nationals!

Congratulations to 12 Gold, 10 Gold, and 12 Silver for representing Bonita Valley at the USA Softball Tournament in Cammarillo, CA on July 30th through August 5th. All teams our having fundraisers to help pay for the tournament, so please visit the Facebook page or visit our 2018 All Star page to see how you can help.
---
Congratulations to the 12U District Champions

Congratulations to Bonita Valley 12U Gold for winning the District Championship. Go BV!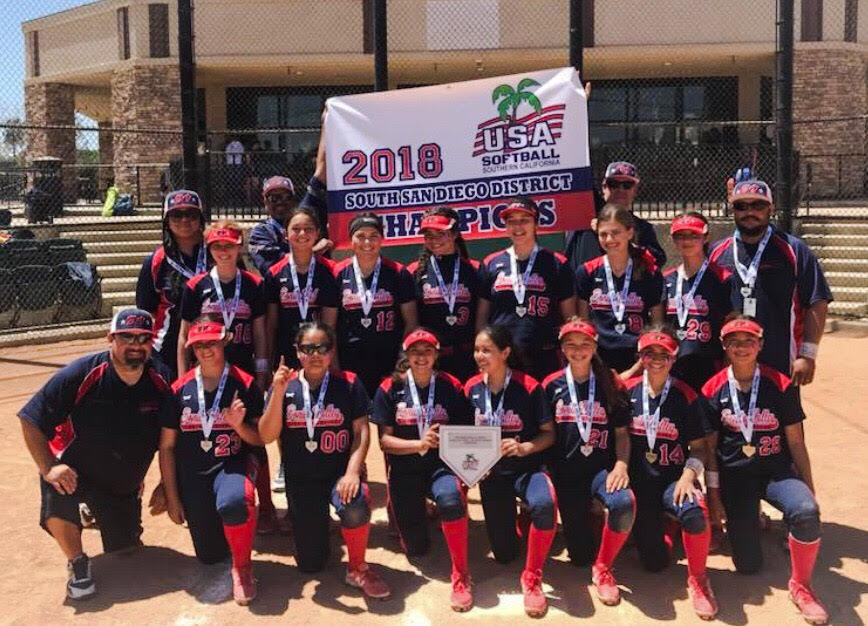 ---
Congratulations to the Division Champions!
Congratulations to to the Championship teams!
2018 Bonita Valley Champions
Majors (14U) Division Champions: Savage
Minors (12U) Division Champions: Supreme
Mini-Minors (10U) Division Champions: Turf Queens
Rookies (8U) Division Champions: Fury
Congratulations also to the second place teams for a great season Tsunami (14U), Money (12U), Gamerz (10U), and Fearless (8U).
---
Congratulations for Tom Kohl Award Recepient

Congratulations to Delia Carvajal-Ruiz, this year's Tom Kohl Award recepient. Delia has given a lot of her time to better the community through her hard work and dedication with our league. Thank you Delia!
---
Check out the All Star Page

Now that the 2018 regular season is over, make sure to visit the 2018 All Star page to keep up on the latest news. Please come out to support our BV family!
---
New 2019 BVGASA Board Members

Bonita Valley Girls Softball held it's annual election for the incoming Board of Directors on May 5th at the Closing Ceremony. Here are the results. These folks will take over with the new fiscal year starting September 1, 2018.
We also want to thank all for running and to those that did not win, we will be keep you in mind when or if openings happen. Thanks!
Position
Elected
Position
Elected
President
Sean Carey
1st Vice President
Jeff Johnson
2nd Vice President
Jandi Diego
Secretary
Kristie Hill
Treasurer
Bill Mendoza
Big League Player Agent
Anthony Acosta
Minor League Player Agent
Joe Hiner
Big League Coordinator
Mat Shy
Mini-Minor Coordinator
Jimmy Truett
Rookie Coordinator
Netzer Ruperto
T-Ball/6er Coordinator
Jorge Mancilla
All Star Coordinator
Terry Flores
Field Coordinators
David Cooper
Kurt Baca
Victor Acosta
Equipment Coordinator
Kelly Greeno
Sponsor Coordinator
Jessica Acosta
Snack Bar Coordinators
Alma Avila
Melyna Lieras
Lorena Vargas
Michelle Luna
Fundraising Coordinator
Netty Brooks
Uniforms/Awards Coordinator
Sandra Lozano
Sarah Nanos
Umpire Coordinator
Robert Baca
Web Site Coordinator
Ray Pham
Photo/Yearbook Coordinators
Susanna Luna
Alex Sangalang
Volunteer Coordinator
Jacqueline Magdaleno
Ways & Means
Felipe Hernandez
Ray Collier
Team Mom Coordinator
Lisa Navarro
Safety Coordinator
Robert Superales
---
---
Dates to Remember:
10/17/2018: Next Board Meeting
11/12/2018: Spring Season Early Registration Online